FREE SHIPPING ON ALL ORDERS OVER $150! - DIVE IN ! or use Code CURBSIDE for Pick-up!
Login
Log in if you have an account
Dont have an account? Register
Size and Fit Guide
Let us help you make sure it fits just right!
All brands fit differently - when we say clothing fits "true to size" it will follow this chart.  If you find it is fitting on the small size or more generous, you might need to adjust the size you buy. Remember, it's not about the numbers, but loving your fit!
How To Measure
There are 3 key areas to measure when fitting. To achieve an accurate measurement we recommend wearing minimal clothing when measuring.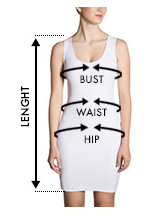 Bust: Measure the fullest area of your bust and straight around your back, while standing with your arms down.
Waist: Measure the smallest section of your waist.
Hips: Putting your feet together, measure the fullest part of your hips.
Clothing Sizes
| | | | | | | |
| --- | --- | --- | --- | --- | --- | --- |
| Cdn | XS | S | M | L | XL | XXL |
| Size | 0-2 | 4-6 | 8-10 | 12-14 | 16-18 | 18-20 |
| bust (in.)** | 30" | 32" | 34" | 36" | 38" | 40" |
| waist (in.) | 24" | 26" | 28" | 31" | 34" | 36" |
| hips (in.) | 33" | 34" | 36" | 39" | 41" | 44" |
| jeans | 24 | 25-26 | 27-30 | 31-33 | 34-36 | 38-40 |
| UK or Australia | 6 | 8 | 10 | 12 | 14 | 16 |

** if you are more than a D cup, try going up a size to fit the girls, and have the waist taken in :)
Plus Sizes for your Curves
| | | | | |
| --- | --- | --- | --- | --- |
| Cdn | XL | 1X | 2X | 3X |
| Size | 14 | 16 | 18-20 | 22-24 |
| bust (in.)** | 45" | 48" | 34" | 51" |
| waist (in.) | 39" | 42" | 28" | 47" |
| hips (in.) | 47" | 51" | 36" | 55" |

Yoga Jeans - Tall
| | | | | | | | | | |
| --- | --- | --- | --- | --- | --- | --- | --- | --- | --- |
| Size | 26 | 27 | 28 | 29 | 30 | 31 | 32 | 33 | 34 |
| waist (in.) | 28" | 29" | 30" |  31" | 32" | 33" | 34" | 35" | 36" |
| hips (in.) | 34" | 35" |  36" |  37" | 38" | 39" | 40" | 41" | 42" |